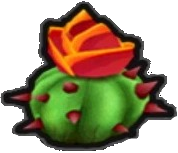 The Cacti-Snack is a type of treat wizards grow to feed dragons, though they can sometimes be found in the wild too.
Characteristics
The shell of a Cacti-Snack has a spicy taste not all dragons like. Howevern the juice on the inside has a sweet taste. The flower on top is not meant to be eaten as it doesn't contain any vitamins, but doesn't taste that bad.
Magical Properties
Cacti-Snack juice is very healthy and improves a dragon's vitality, can be used for certain medicines, and contains a lot of vitamins. The plant is also naturally enchanted to make every drop of juice have a different taste.
History
Nogard was walking in the Sandara Desert to study Earth Dragons when he suddenly saw some Light Dragons eat some cacti. As Light Dragons are supposed to eat the nectar from the Vitrum Scyphus and no cacti, he went to investigate the scene. He carefully picked one of the shells and drank the juice, and realized how delicious it was. Nogard took some seeds to his park and since then these cacti are grown as Dragon Treats.